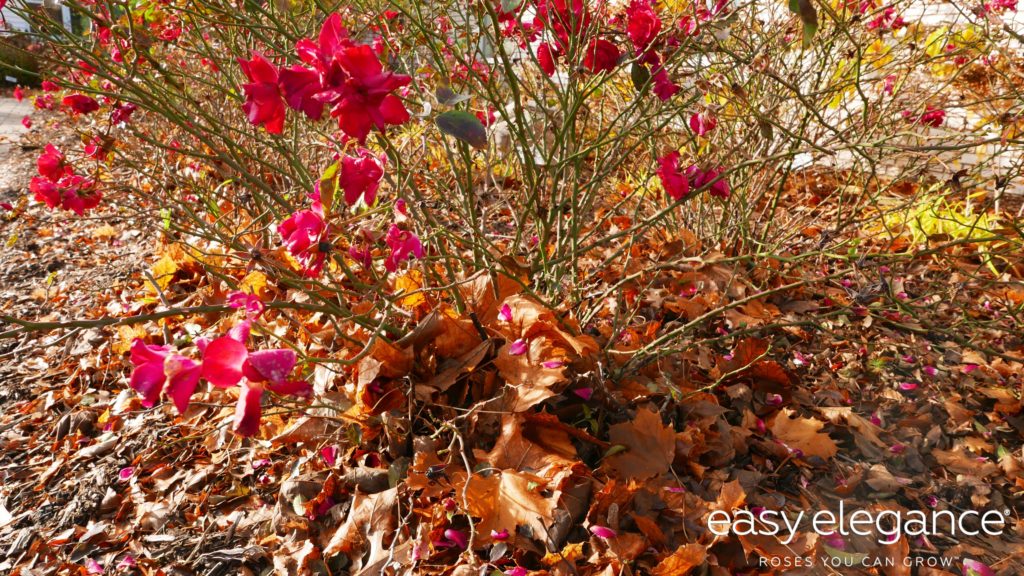 Winter is just around the corner. And while you might be ready, are your roses? Since you're so smart and planted Easy Elegance® Roses, the answer is pretty simple. It's not like the old days when you had to tip the roses or cover them with cones, thank goodness! These rose shrubs were bred specifically to withstand Zone 4 winters with little to no protection. In fact, the Better Homes & Gardens Test Garden – in Zone 5 – doesn't use ANY protection to give a real hardiness test, and Easy Elegance® Roses are consistently at the top of the list.
There are only four things you need to know to prepare your roses for winter.
1. Stop Fertilizing
Winter prep starts at the end of July when you stop fertilizing. Fertilizer promotes new growth, which is more tender to the cold temps of fall and winter. So, make sure to put the fertilizer away until next spring.
2. Stop Deadheading
By late August or early September, you should stop deadheading your roses. This will allow for your rose stems to harden and form rose hips. Rose hips provide some pretty fantastic fall interest and can even be used to make jelly. Make sure to check out our video on how to make rose hip jelly for a fun fall activity.
3. Water
There is no need to water your roses every day leading up to winter, but a little water until the ground freezes will go a long way. Water your roses every few weeks or so just until the ground does freeze. If you live in a warmer climate where the ground doesn't fully freeze, make sure to keep watering lightly throughout the winter.
4. Mulch
If you live in a cold climate that sees extreme temperature drops or fluctuations, it's a good idea to provide them with some added protection in the form of mulch. Use something like old leaves or straw to cover the base of the shrub.
For those with newly planted roses:
Give your new Easy Elegance® Roses a little extra winter protection since it's probably not fully established in the ground. Pile those leaves or mulch up a few extra inches to be extra safe.