Assess Last Year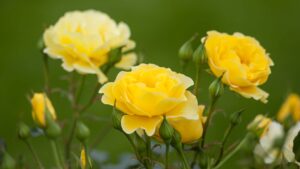 The best place to start is assessing how this last year went. Take time to note down what went well in your landscape, but also what did not. This will help you determine areas that need improving. Even if there's snow on the ground, feel free to take a walk around outside and check out your landscape. Bring a notebook or phone with you so you can keep track of areas you love, make a note of any plants that need to be replaced, and any gardens that need redesigning. This walkabout will reacquaint you with your landscape, get your mind centered on what your gardens need, and what you want from your space.
Look For Opportunities
As you walk around, keep your mind open, looking for opportunities. Maybe you notice a space that seems a little bare. Maybe you want to bring some color and fragrance to your patio. Whatever you see, mark them down as opportunities to plant new Easy Elegance® Roses! In the end, you'll have a list of areas that you can curate and make your own.
Write Down Your Goals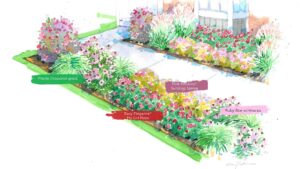 Winter is a great time to sit down and outline your goals. So, once you have your list write down your goals, new roses your want to plant, and any landscaping projects you want to complete. Feel free to sketch out your ideas, like the picture above! A little organization now will make your spring that much more enjoyable. Plus, when spring rolls around, and you're at your local garden center picking up those new roses, you'll already have a list you can work from.
Check the Calendar
It never hurts to plan early for what care your roses need and when they need that come spring. Our Gardening Calendar is an excellent resource if you're looking for a place to start. It's also handy to know the date of the last frost in your area, so you know when you can begin to work in the spring. We've compiled the average frost dates for each state here.
Find Inspiration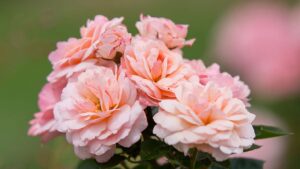 Like anything in life, be open to inspiration! Make our Inspiration & Resources page a go-to for all the latest from us. Also, watch episodes of Garden Gab™ not just for the inspiration but for tips and how-to's that will come in handy next year. And, what better way to get inspired than by looking at gorgeous rose blooms? Look through the roses in our collection to learn more about each variety's unique characteristics.
Ask Questions
Asking questions and finding solutions is part of any gardening experience. Our online resource GardenGab.com is a great place to find answers to your rose questions, whether they come up in the planning process or next year when your start gardening. Browse through questions that have already been answered or ask your own. As always, reach out to us on social at @easyeleganceroses with any questions about the roses in our collection. We hope you have a wonderful winter and a great time planning for spring!